Fresh Ideas: Summer Entertaining Recipes
June 21, 2017
When it comes to hosting, sign us up for summer. There's no need for fussy tables, elaborate courses or crafty cocktails—in fact, there's no need for shoes. The only requirements for a night to remember? Good friends, good food and a nice big pitcher (or two) of the good stuff. Now that the season's officially upon us, our friend Regan Baroni of Up Close & Tasty whipped up an easy-breezy menu that will keep you out of the kitchen and in the moment.
Cheers to you, summer!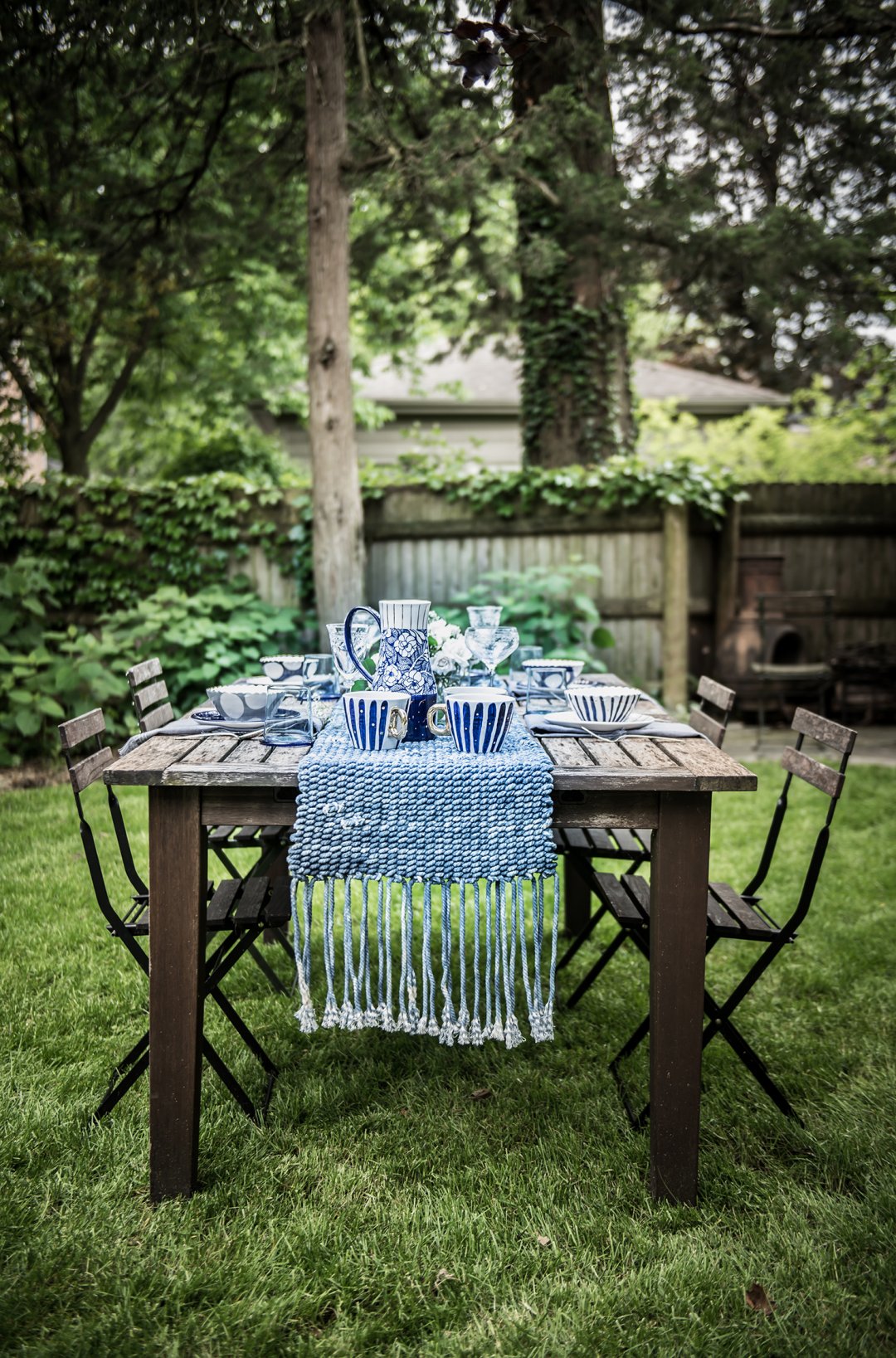 SPICY GARDEN GAZPACHO
What You'll Need
2 1/2 cups chopped Roma tomatoes
1 1/2 cups chopped cucumber
1/4 cup chopped red bell pepper
1/4 cup chopped orange bell pepper
1/2 cup sliced green onions
2/3 cup chopped yellow onion
1/3 cup extra virgin olive oil
1 lemon, juiced and zested
1 lime, juiced and zested
1/3 cup white wine vinegar
1/3 cup chopped flat-leaf parsley
1/3 cup chopped cilantro (save extra springs for garnish)
2 tablespoons Worcestershire sauce
3 large garlic cloves, minced
1 jalapeño pepper, seeded and chopped
1 serrano pepper, seeded and chopped
3 1/2 cups spicy, low sodium V-8 juice
3 1/2 cups Clamato juice
1 tablespoon sugar
Salt and pepper, to taste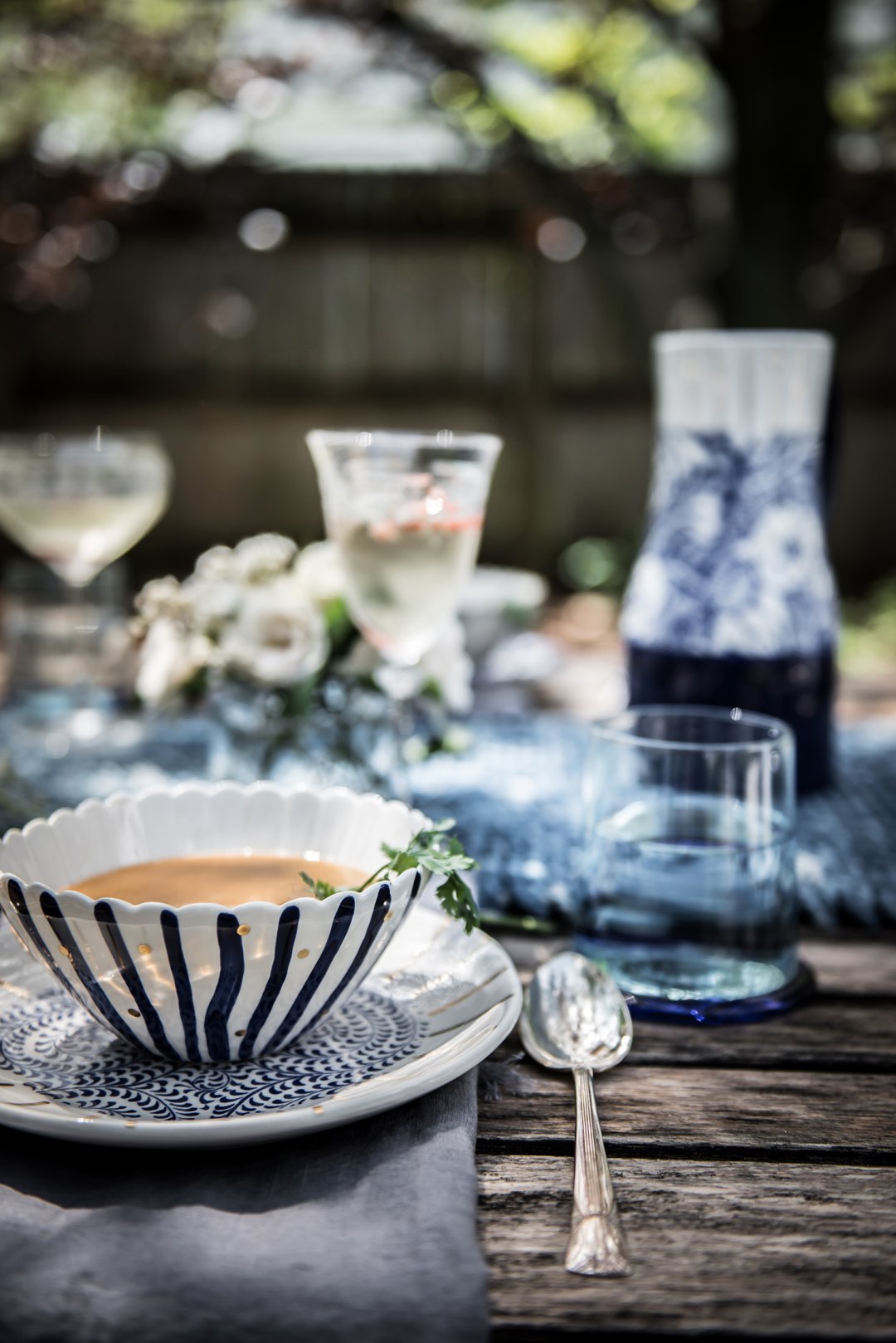 How To Make It
Working in batches, combine all ingredients in blender and process until smooth. Add salt and pepper to taste, then chill in refrigerator overnight before serving.
STRAWBERRY & SPINACH SALAD
What You'll Need
for the salad
6 cups fresh baby spinach
1 pint strawberries, hulled and sliced
1 avocado, peeled, pitted and diced
4 ounces crumbled gorgonzola, blue or feta cheese
1/4 cup sliced almonds, toasted
1/2 small red onion, thinly sliced
for the White Balsamic-Tarragon Dressing
1/4 cup white balsamic vinegar
1/4 cup extra virgin olive oil
1 teaspoon Dijon mustard
2 tablespoons chopped, fresh tarragon
Salt & pepper
How To Make It
Toss all salad ingredients together in a large bowl. Whisk all dressing ingredients together in a small bowl until well blended, then drizzle over salad and serve.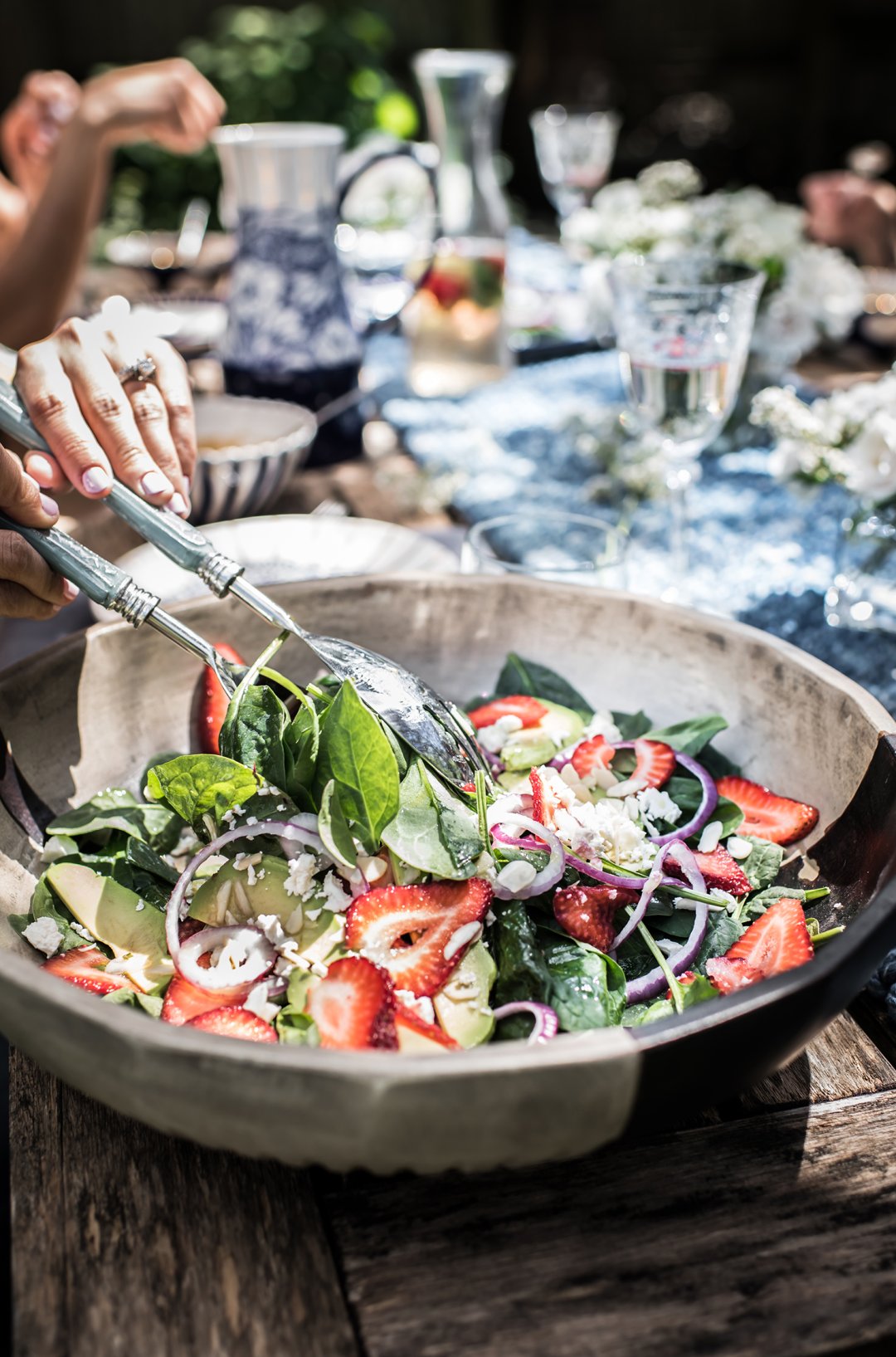 STRAWBERRY & BASIL SANGRIA 
What You'll Need
1 bottle dry white wine, preferably Sauvignon Blanc
1 lemon, thinly sliced
1 pound of strawberries, hulled and thinly sliced
2 cups basil leaves, loosely packed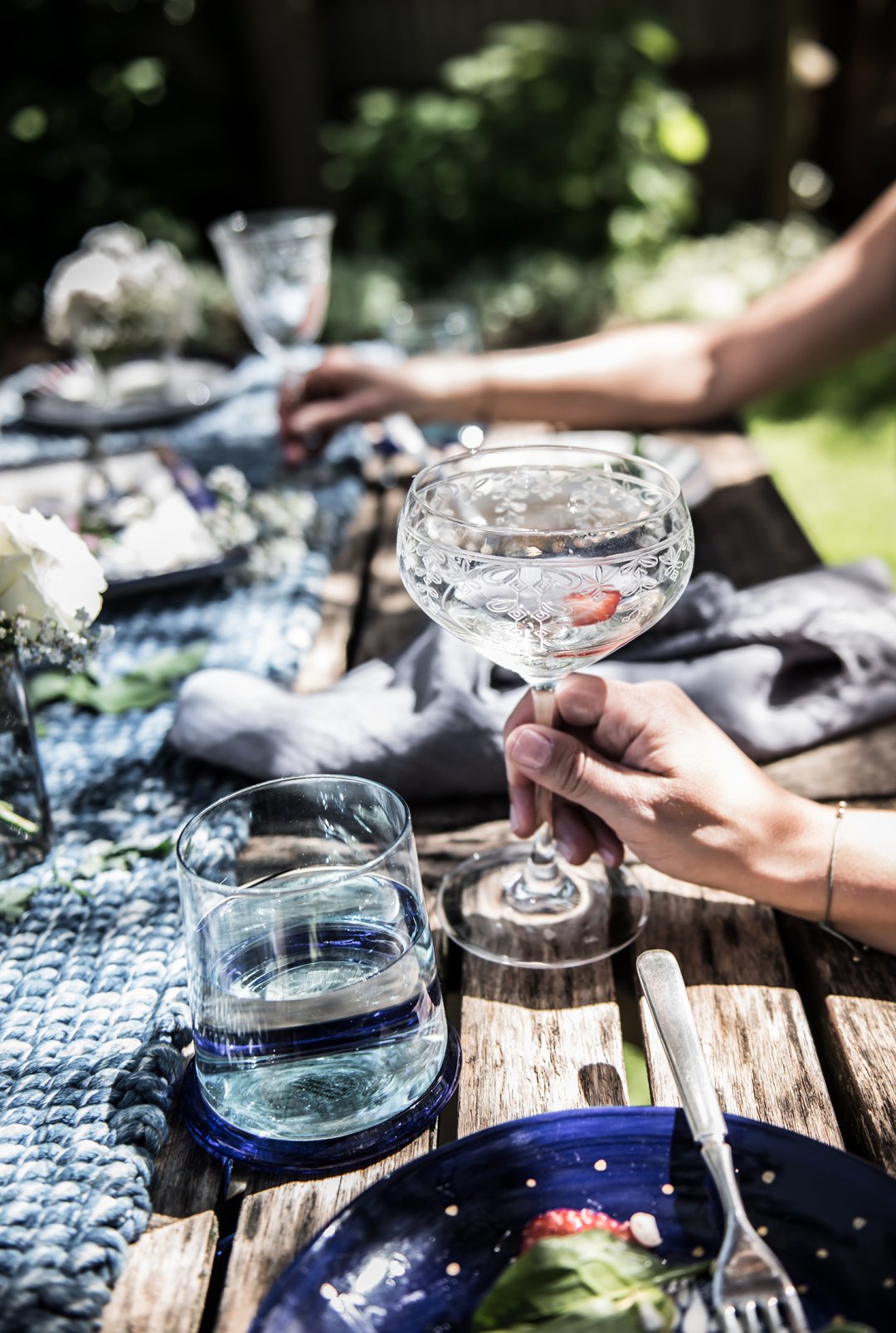 How To Make It
Place 3/4 of the lemon slices, half the strawberries and half the basil in a large pitcher and fill with the wine; refrigerate for 1-6 hours. Fill 1/3 of another pitcher with ice and add remaining lemons, strawberries and basil. Strain the infused wine into the pitcher with ice and serve.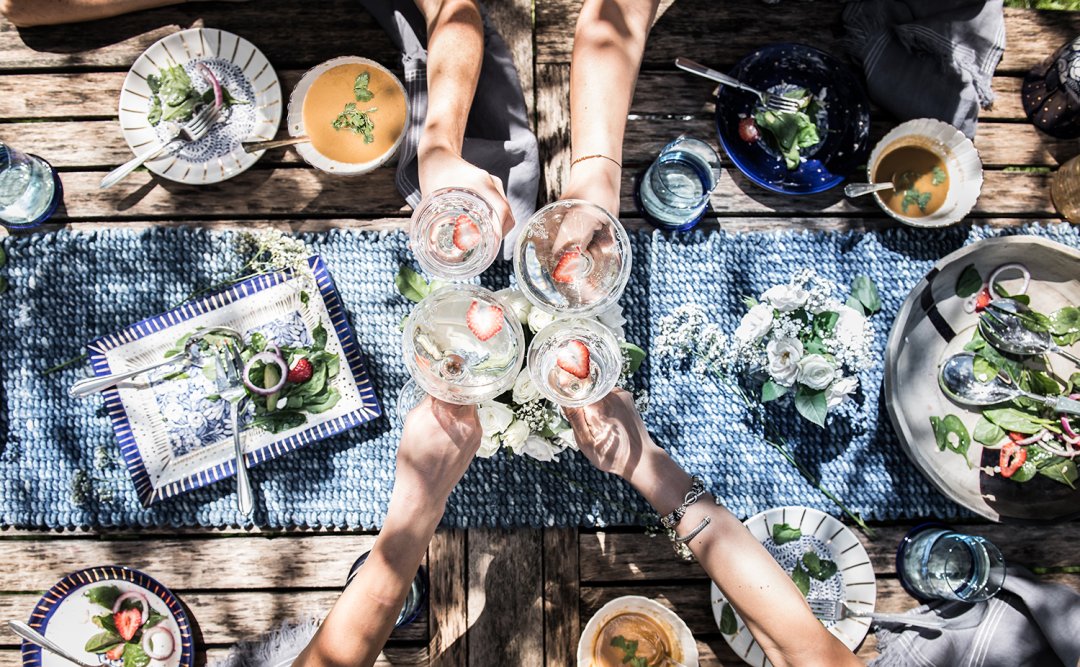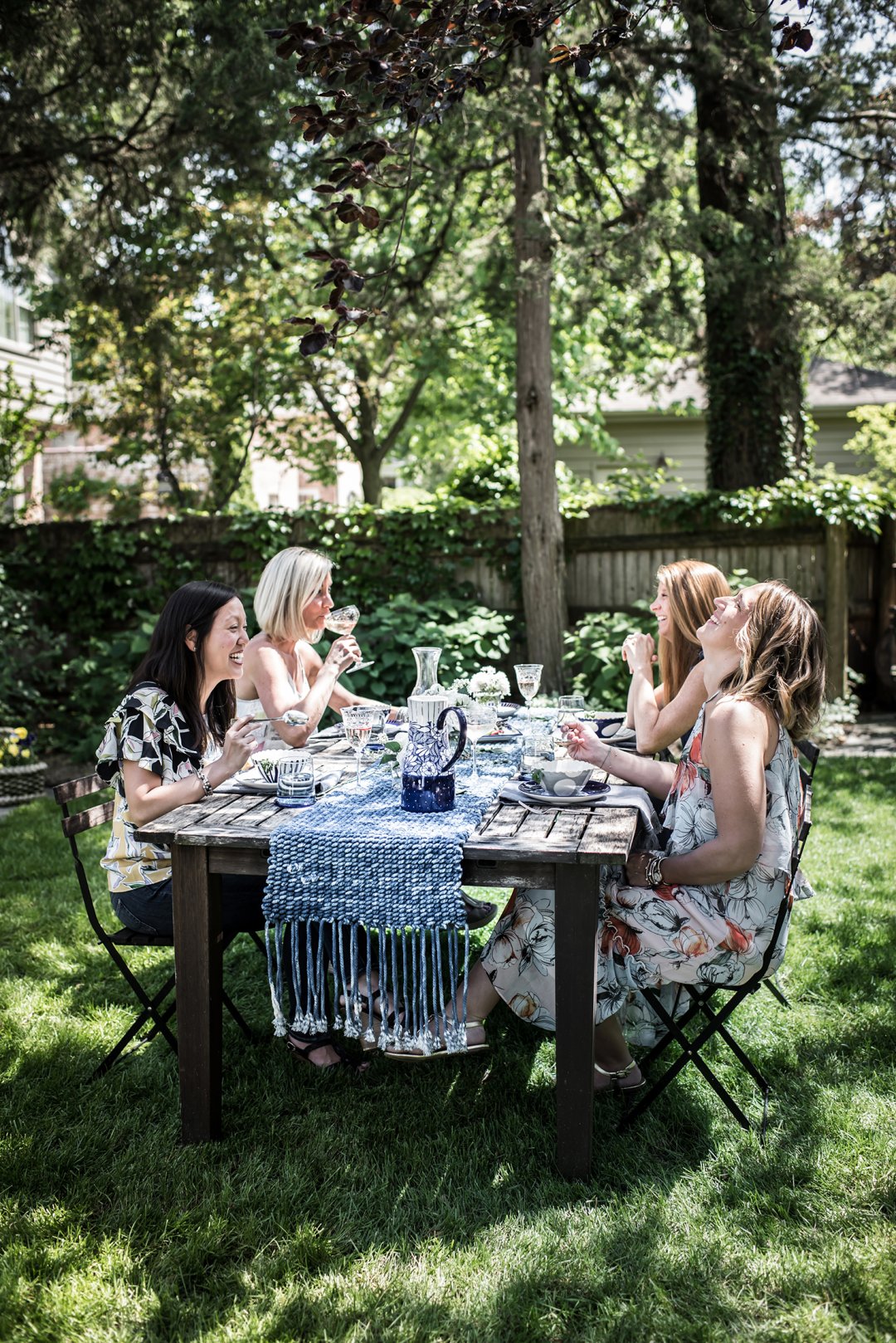 Summer is served: see what's new in Kitchen & Dining.