How it's Done: The Living Room Overhaul
August 21, 2017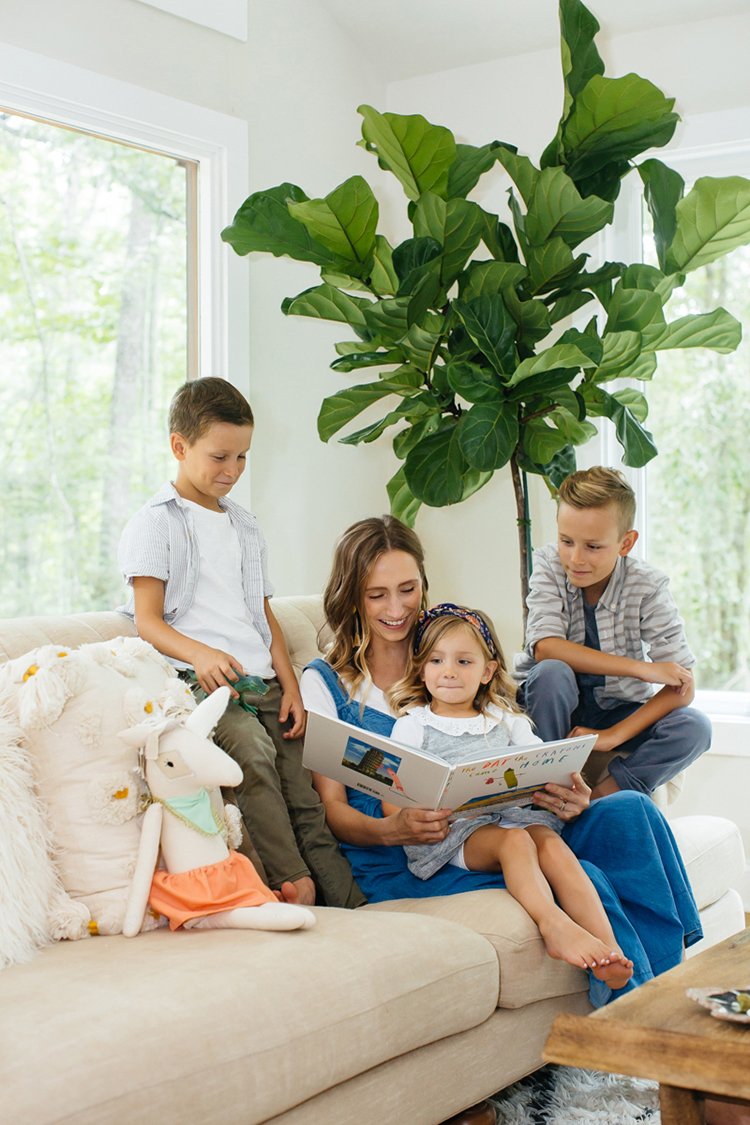 When it comes to decorating your own space, it's tricky to know exactly where to start — especially when it's a home you've lived in for years. Such was the case for Christi Tucker. The 32-year-old had been residing in her North Carolina home for four years with her husband and three children when she decided to give her living room an overhaul. "I had just purchased new furniture for that room, but it still wasn't feeling like I wanted it to," she says. "I knew the space was off-balance, but I couldn't quite figure out what to do about it." She connected with Anthropologie home stylist, Anne White, an expert with six years in design and décor, and the two got to work. "I wanted to ensure that her space was both beautiful and functional," notes Anne.
The end result is an artful bungalow awash with plenty of modern accents. "Now it has this laid-back California vibe – a style I love but felt I could never pull off in my mountain home," says Christi. Anne agrees: "Your home should be somewhere you love to spend time, and I love the fact I get to help people curate and style spaces that are a reflection of who they are."
Here, Anne shares with us the tips she regularly calls upon for refreshing a living space. 
1. Build a Strong Foundation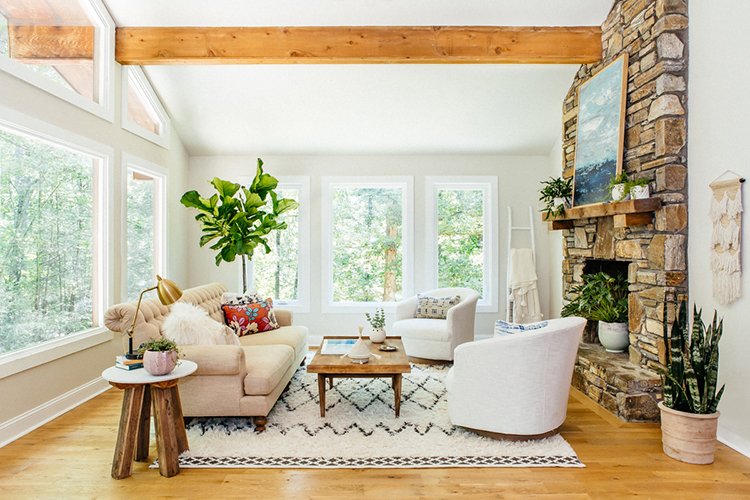 Anne suggests starting with an impactful anchor piece or two and building the room from there. In Christi's case, that meant our Fan Pleat sofa in Driftwood linen and a bohemian-inspired rug. "Those were great foundational items that we could work with," says Anne, who brought in additional greenery to add pops of color against the light rug. "Each item in the space should feel intentional."
2. Create Balance
"Christi's centerpiece was her sofa, but the missing components in this case were the right chairs to balance it," says Anne, who swapped out two tall, leather wingbacks for shorter swivel chairs in ivory. "The fireplace, with those original chairs, was dark and imposing and had quite a bit of visual weight – there wasn't anything balancing that height on the left-hand side of room," she notes. "The new chairs are perfect because they bring lightness and add a sight line."
3. Consider Your Lifestyle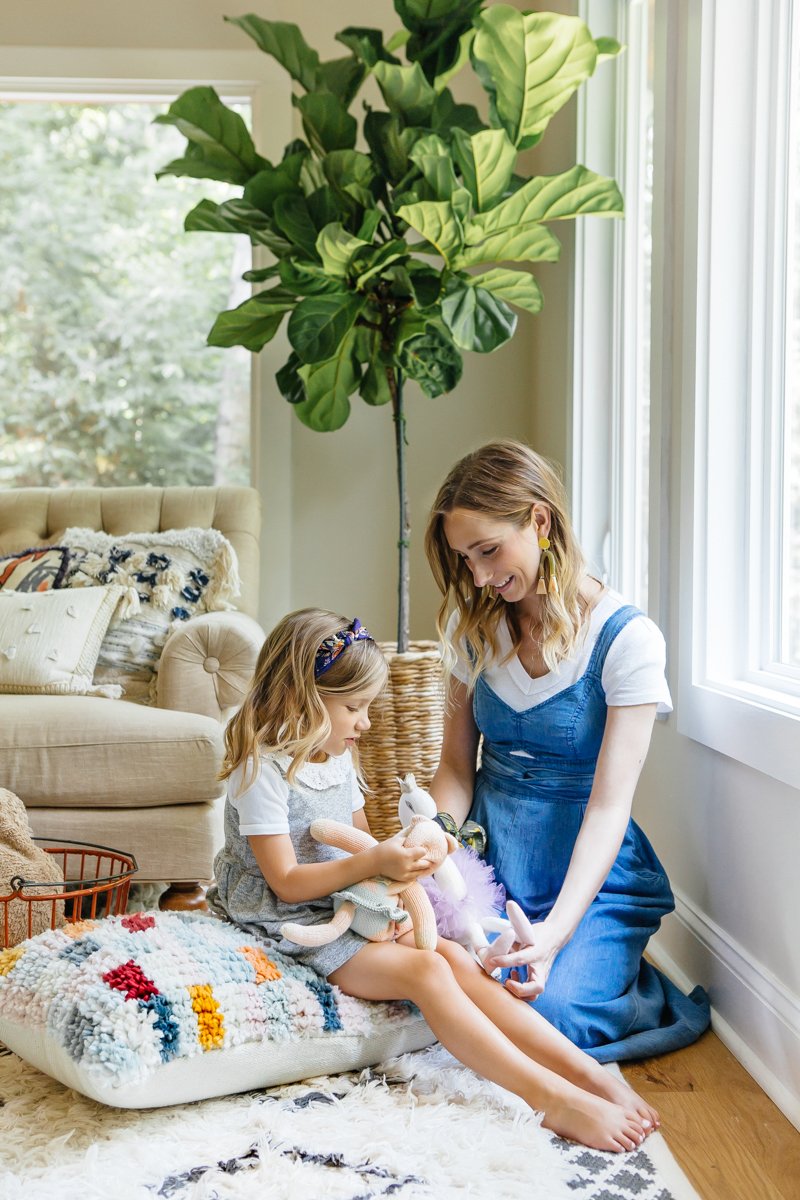 Before diving into any project, Anne asks her clients a few vital questions; "Do you love to entertain? Do you have pets? Do you have children?" she says. "The most important consideration for Christi's project was that this room would be her family's primary living space, she has three young kids, and she loves to have people over." Those guiding factors led Anne to the Amoret chairs in a performance fabric and a wooden coffee table over a glass one. "The fabric means we could choose a beautiful silhouette and hue that will serve her family well, and the table is great because you don't have to worry about fingerprints or hard edges around the little ones," she says. "You don't have to sacrifice style in the name of functionality."
4. Introduce the Unexpected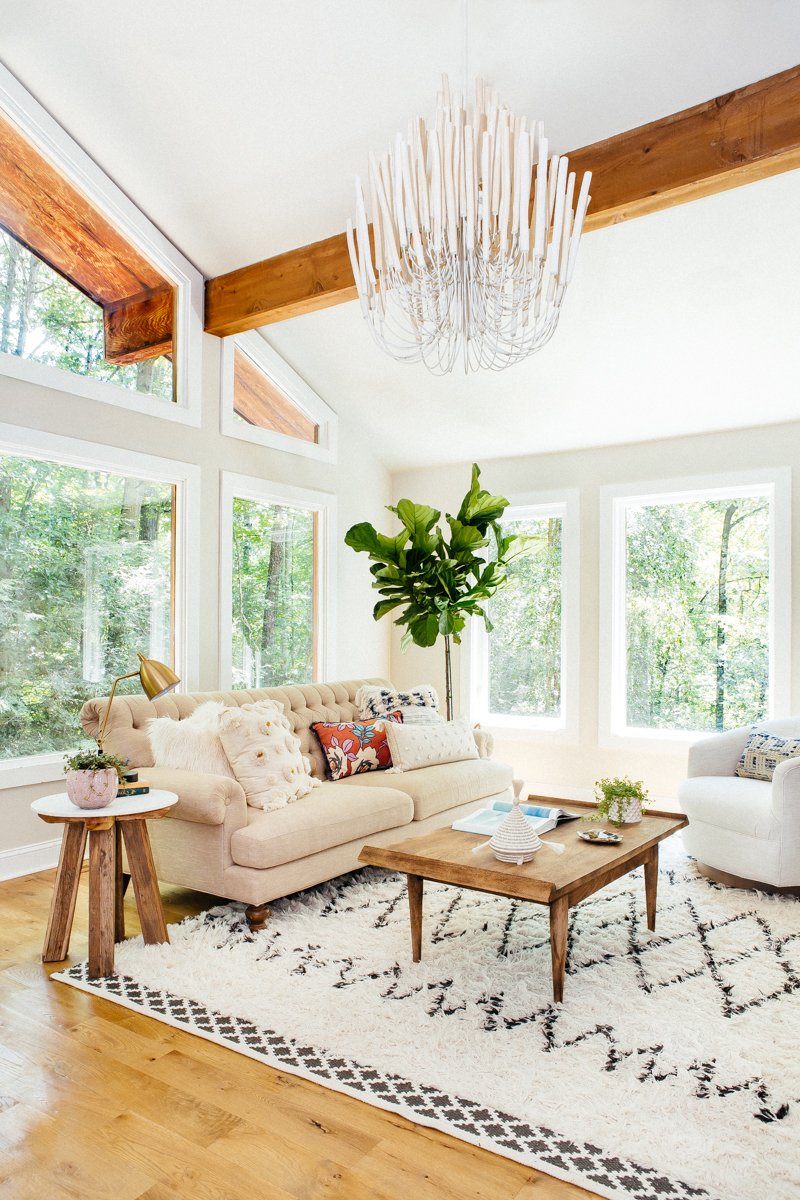 Developing interest through unexpected pairings is one of Anne's favorite rules of thumb. "While Christi's chairs, sofa and coffee table were three different aesthetics, they still played off each other beautifully," she says. She also added metallic décor to mix up the materials of the room. "When you hit the right balance, you will immediately infuse style and visual interest into a space, resulting in a look that is both striking and unique."
5. Express Yourself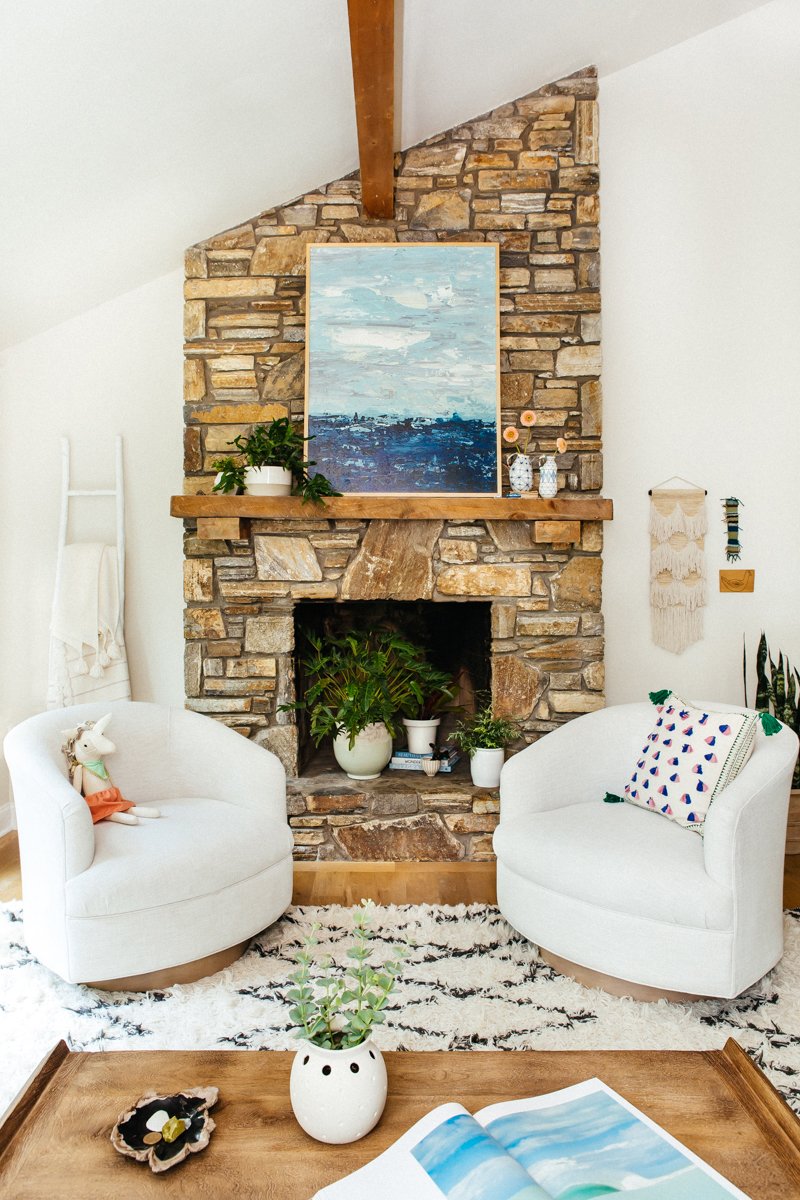 No matter what room you're outfitting, Anne suggests keeping you and your family's story top of mind. "A space should always be reflective of the personality of its inhabitants," she says. "Guests who walk through the door should have an insight into the interests of the owner. Is she a world traveler? A collector? Décor details should be reflective of who you are and what you value." For Christi's space, that meant incorporating a stack of her grandmother's old recipe cards, her son's Matchbox cars, and plenty of artwork her children had created. "We really wanted to bring a sense of fun into the room," says Anne.
Click here to learn more about our complimentary Home Styling services