Personal Stlying: Fall Capsule Wardrobe
September 26, 2017
Fall is officially here, and with its chillier weather comes the age-old question: "But what will I wear?" The trick to mastering a new season's wardrobe is to understand not just what trends to wear, but how to make them feel true to you. In the spirit of preparation, we asked our Personal Styling Director, Christina Fredericks, to curate a capsule wardrobe that she feels defines this fall's most versatile go-to styles, layering essentials, and key silhouettes worth investing in.
"This fall, it's all about having some fun, being fashionably yourself, and expressing all sides of your personal style," Fredericks says. Using only ten foundational pieces, she shares how to build fourteen go-anywhere looks.
The Lineup: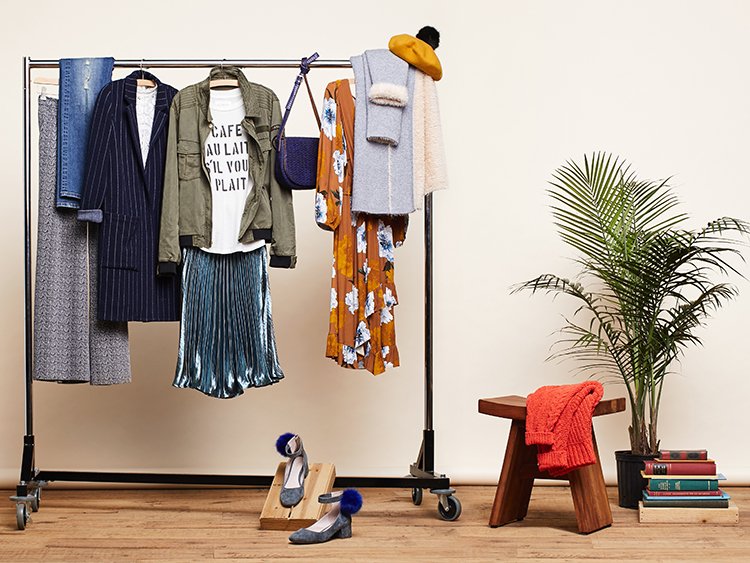 Three Tops: 1. Victorian-Inspired Top | 2. Graphic Tee | 3. Plush Pullover
Three Bottoms: 4. Pleated Metallic Skirt | 5. Slim, Cropped Denim | 6. Wide-Leg Trousers
Three Toppers: 7. Pinstripe Blazer | 8. Reversible Textured Cardigan | 9. Utility Jacket
One Dress: 10. Floral Wrap Dress
TRY SOMETHING NEW
Invest in a feminine skirt with statement-making metallic shine.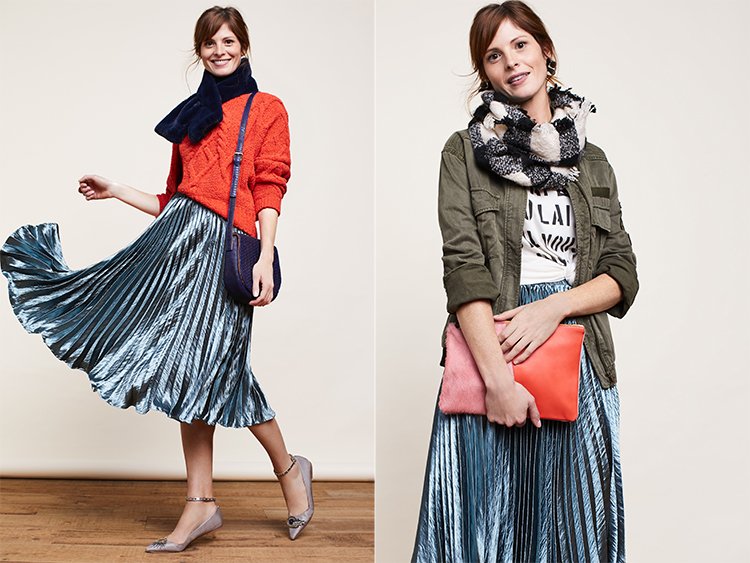 Fredericks notes that an overall theme this fall is blending a futuristic spirit with the romance of the past, and the Pleated Metallic Skirt does just that. "Metallic pleats infuse instant energy to your wardrobe as the statement skirt becomes a true daytime staple," she says. "Once you get past the mesmerizing movement of this midi, you'll find real versatility—there are so many ways to wear it!"
How It's Done: Fredericks pairs the Pleated Metallic Skirt with the Graphic Tee and Utility Jacket for a truly casual look, while the Plush Pullover makes for a color combo we love.
SWAP THE TOP
Go from day to night by switching out one layering piece for another.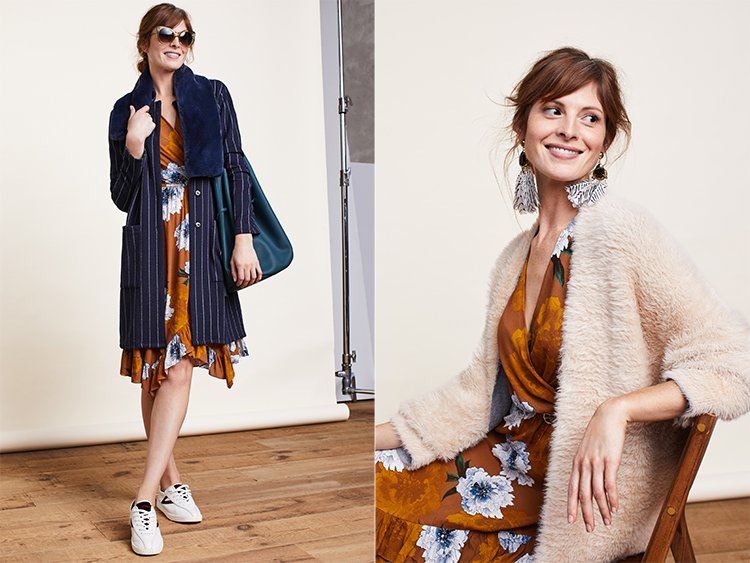 Longline layering pieces offer a lot to love, especially for those with busy schedules. "Use fresh layering toppers to take a dress in different directions depending on your to-do list, destination, or mood," she notes. "A long pinstripe blazer or textural cardigan can help spin multiple outfit options out of a single floral frock."
How It's Done: By swapping out the Pinstripe Blazer for the Reversible Textured Cardigan, Fredericks takes this look from errands or appointments to a romantic night out.
DRESS UNEXPECTEDLY
Layered, wrapped, and even reversed—a single dress takes on a surprising number of trends.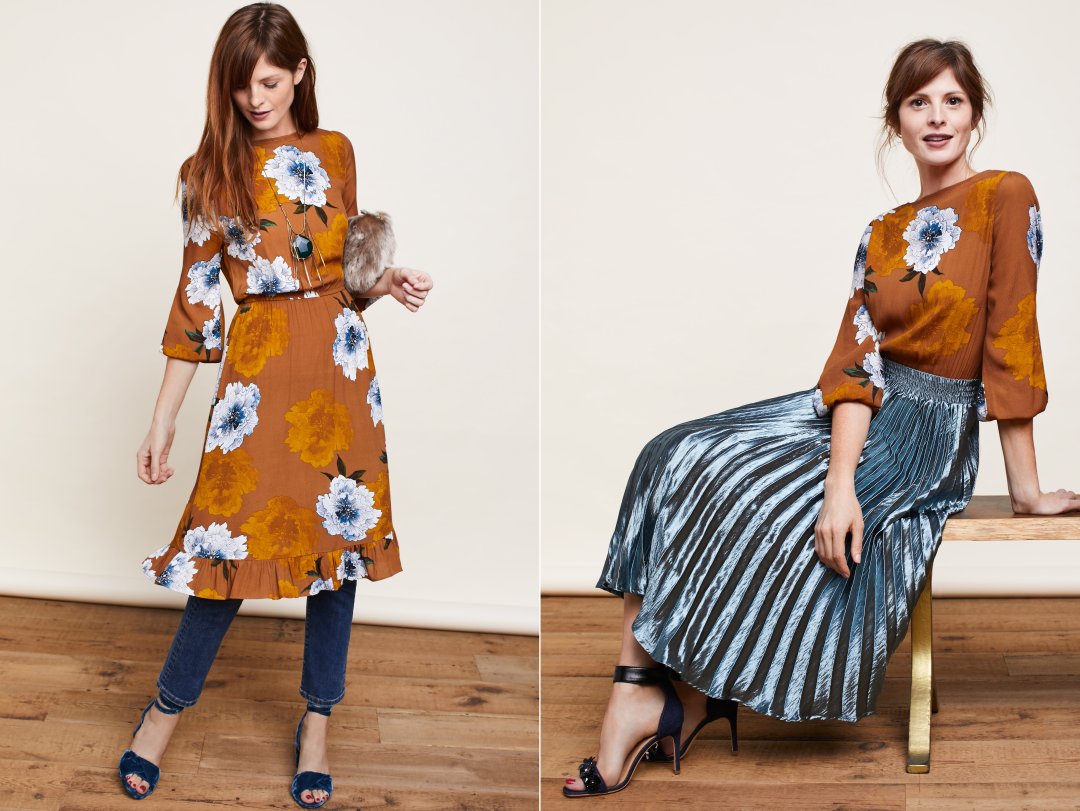 We're excited about the separates trend this season, but when it comes to building a solid fall foundation, Fredericks says that a does-it-all dress can make for pleasantly unexpected pairings. "A flowing dress works over slim, cropped denim for a cool spin on femininity and for the long-over-lean look. With a little experimenting, we found that our favorite not only looks great backwards, but also works beautifully as a 'top' tucked into a pleated skirt. Now that's versatility."
How It's Done: The Floral Wrap Dress works as a long layer when paired with the Slim, Cropped Denim, but takes on the look of a top when matched with the Pleated Metallic Skirt.
PLAY WITH PROPORTION
Outfit your wide-legs to suit your mood.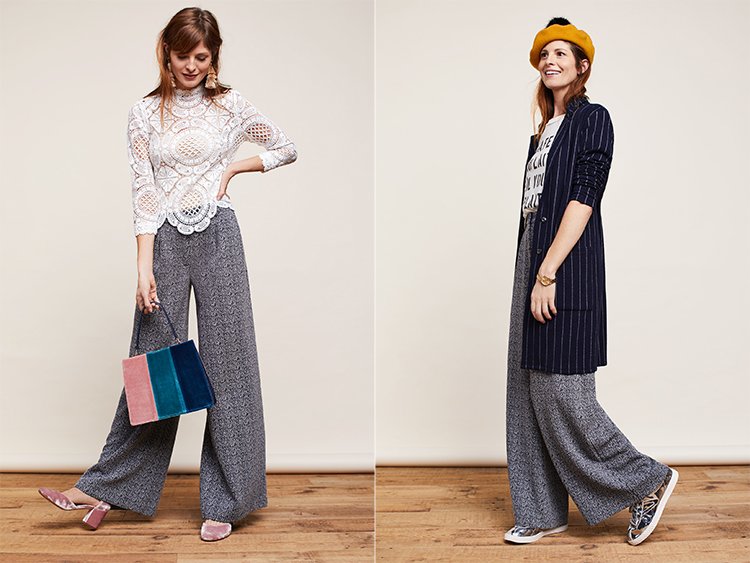 The Wide-Leg Trouser is the key to showcasing both traditional and fashion-forward sensibilities. "When paired with a smaller feminine top, velvet shoes, and a structured bag, the look is lady-like luxe," Fredericks explains. "Pair your textured wide-legs with a graphic tee, pinstripe blazer and metallic sneakers for a modern spin on tomboy chic."
How It's Done: Trade the Victorian-Inspired Top for the Graphic Tee and Pinstripe Blazer combo, and the Wide-Leg Trouser takes on a duo of seasonal trends.
MATCH RED & BLUE
Experiment with this season's primary color combo.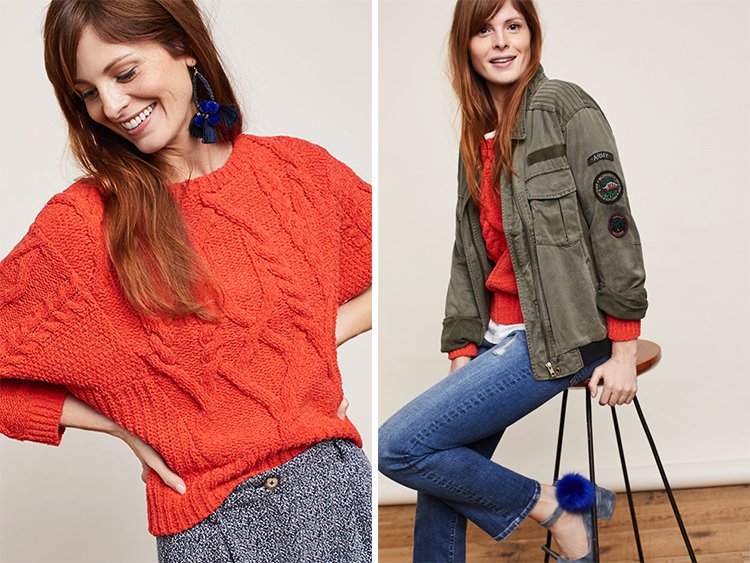 For this look, Fredericks chose a vibrant Plush Pullover in red: this season's key color. She notes, "I'm especially loving red paired back to a range of blues for an 'anything goes' approach to color that is irresistibly fresh right now. A cozy red sweater in plush yarns will bring more fun to any autumnal wardrobe."
How It's Done: Using statement accessories like tasseled earrings and pommed heels, Fredericks adds pops of blue against the Plush Sweater's red hue. She also pairs it with the Slim, Cropped Denim for a look that's ready for anything (or anywhere).
SEEK DOUBLE-DUTY DRESSING
A reversible piece offers two looks in one.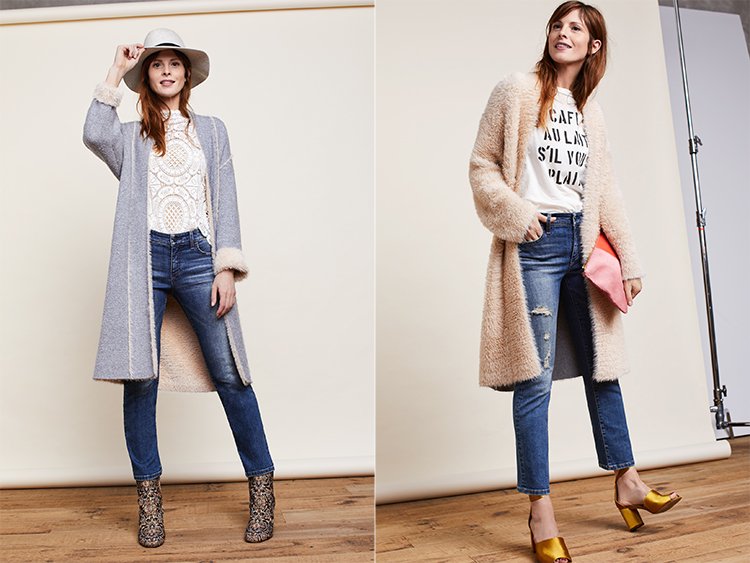 To get the most mileage out of a piece, invest in a layer that works double time. First stop? Our Reversible Textured Cardigan—which brings option upon option into your wardrobe. "The grey side's texture has a cozy, casual vibe, and the ivory side brings an ultra-luxe femininity to any look."
How It's Done: For a look that keeps on giving, Fredericks simply turns the Reversible Textured Cardigan inside-out. She swaps out the Victorian-Inspired Top for the Graphic Tee, noting, "the graphic tee trend isn't winding down with summer. Here's one of my favorite fall updates."
PAIR LACE WITH DENIM
A feminine top with jeans is an effortless way to dress up and down.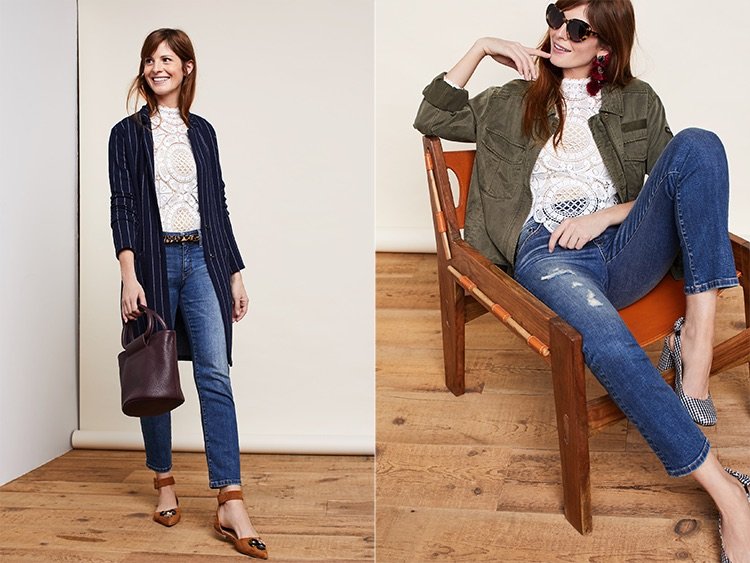 When paired with denim, the Victorian-Inspired Top puts a modern spin on modest dressing. "This easy-to-layer top is a super wearable version of the trend and is officially our work-to-weekend MVP. It looks great under a blazer for the office and under a more casual topper—like a military jacket—for the weekend," says Fredericks.
How It's Done: Swap out the Pinstripe Blazer for the Utility Jacket to create two distinct outfits. The key to these looks is in the iconic silhouette of the Slim, Cropped Denim. This Pilcro pair has a straight silhouette with a higher rise: "An outfitting essential for fall," says Fredericks.
ADD ACCESSORIES
Experiment with playful poms, plumes, and poufs.

Accessories are a great way to add extra versatility and on-trend touches to your ten-piece wardrobe. "Velvet and fur trims continue to be a focus this season," says Fredericks, "I love how the rich textures and saturated colors elevate the look of the shoes and bags we've used throughout this shoot." As days get cooler, hats begin to feel like a viable accent, especially in bold colors and shapes. Artful earrings continue to feel fresh and relevant when styled for fall.
How It's Done: Embrace all the options of the new season by getting imaginative with of-the-moment hats, shoes, bags, and jewelry.
Want help creating a custom fall capsule? Get in touch with our personal stylists! >> here