On the Road with Amber Valletta
August 28, 2017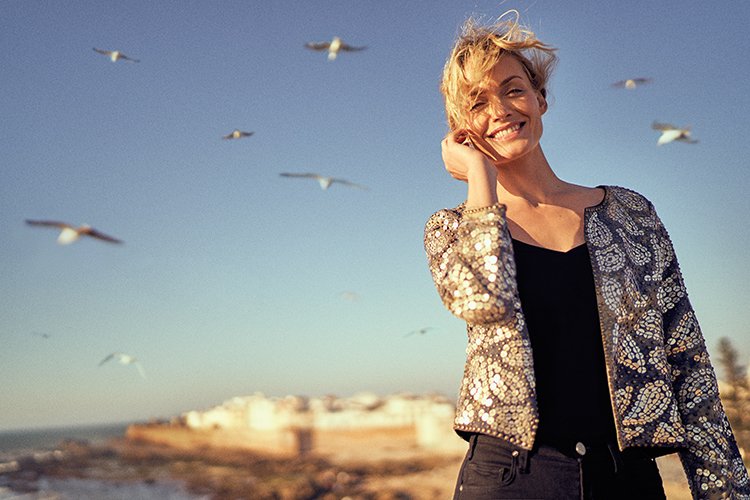 There's just something about Amber Valletta. We admit it: she's our ultimate girl crush. The 43-year-old American fashion model and actress—and our September Journal cover girl—landed the first of sixteen American Vogue covers when she was just eighteen. By the time she could order a drink, the Tulsa native was sporting looks by the biggest behemoths of fashion and starring in global campaigns for some of the era's most coveted brands, including Calvin Klein, Gucci, Versace and Elizabeth Arden.
Today, almost 30 years after the start of her enviable career, she joins us in the ancient town of Essaouira—Morocco's secret by the sea—and shares some of her habits and insights, from good-bye-to-summer rituals to the words she tries to live by.
How do you choose to say goodbye to summer?
I live in LA, so I am blessed to have warm weather and sunshine pretty much year-round. Usually by the time it starts to cool off, I'm eager to wear a sweater and jacket. I like a quick plunge in the Pacific to officially say goodbye.
Have you ever traveled somewhere completely alone?
I went to India alone at 23 years old. I flew into Delhi and the folks I was volunteering for picked me up and we drove eight hours up to Dharmsala. I was working in a children's village for Tibetan refugees run by the Dalai Lama's sister. I could see his palace from my bedroom window. I felt so empowered traveling alone and gained so many insights on that trip. It was an experience I will never forget.
What are you three travel essentials?
My gel eye masks for puffiness, a good book and my iPhone—so I can FaceTime with my family while I'm on the road.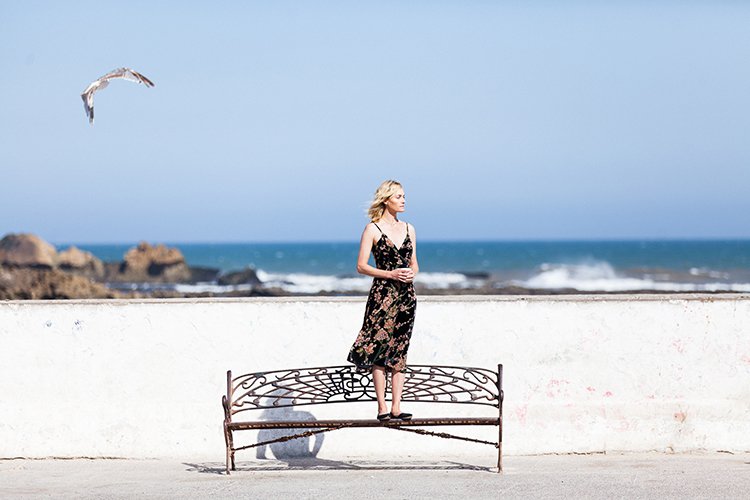 What is your earliest travel memory?
It must be flying by myself when I was around six. I traveled from Tulsa to San Diego to see my father.
Where is your favorite place to escape to?
I look for a hotel and an area that is more interesting than my home base—or a place that's uber quiet. I love old cities and towns, places that have an abundance of culture and history. I want to feel a place as much as I want to see it. But to be honest, I travel so much for work that sometimes the best escape is a night's sleep in my own bed.
What do you tend to forget to pack when you travel?
I always forget a warm wrap or sweater for the airplane. It's slipped my mind like five times in a row recently!
What book do you choose to reread, year after year?
I like to reread The Great Gatsby. I think it is some of the finest literature ever written—and I love the time period!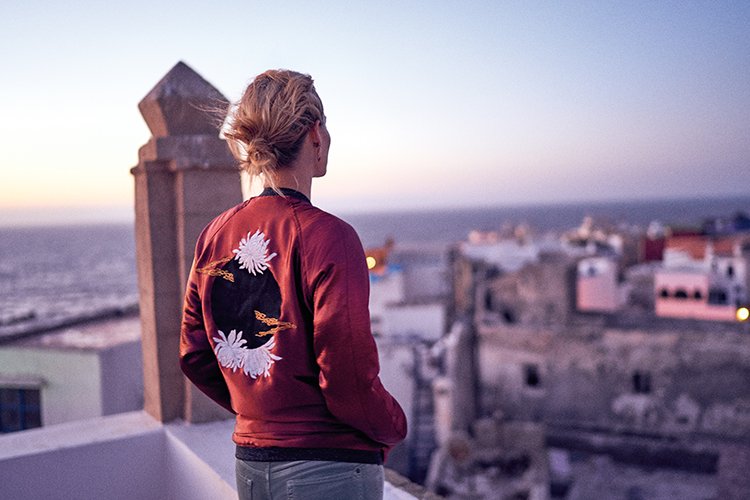 What are the top three most played tracks this summer?
Still Dre by Dr.Dre, Wrapped Around Your Finger by The Police and It's My Life by Talk Talk.
What words do you say too often?
There are many! 'Let you know tomorrow, babe' is one. 'I love you' is probably the phrase I use the most , but I don't think you can ever say that too much!
What's your signature dish? The one your friends ask you to make…
I make a mean Thai beef and green bean stir fry—and a delicious roast chicken with lemon, garlic and herbs.
Shop the September Lookbook