Paella & Sangria: A Late-Summer Dinner Party
August 11, 2016
As lovely as it sounds, the endless summer is, as far as we can tell, a myth. And although it's not time to pack up the beach chairs just yet—promise!—there are only so many long, leisurely evenings left before the sun sets on the season. With that in mind, we asked Adrianna of A Cozy Kitchen to help us put together a feast in August's honor. Be sure to invite your nears and dears—from the paella to the sangria, this is a menu designed with extra chairs in mind.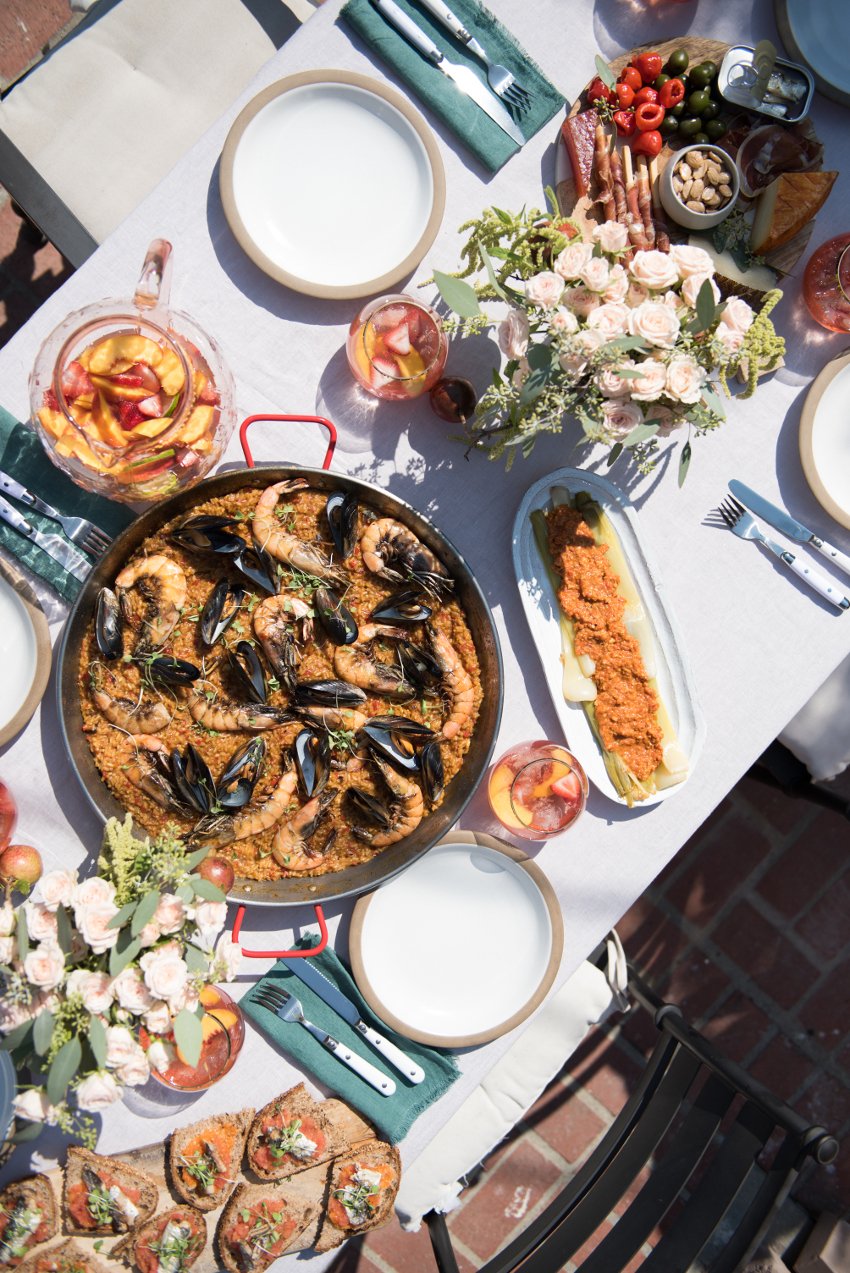 LATE-SUMMER SEAFOOD PAELLA
 What You'll Need
For the mussels 
30 mussels, cleaned (about 1 1/4 pounds)
5 cups cold water
1 1/2 cups white wine
4 garlic cloves, peeled
2 pinches saffron
For the paella
Olive oil
2 pounds head-on shrimp
2 yellow onions, peeled and finely diced
2 red bell peppers, peeled and finely diced
4 garlic cloves, peeled and minced
5 vine-ripe tomatoes, finely diced
2 tablespoons tomato paste
2 tablespoons sweet paprika
2 teaspoons ground cumin
4 dried bay leaves
1 tablespoon salt
4 cups Valencia or Arborio rice (see note below)
Reserved mussels broth
2-4 cups chicken stock
Parsley, for garnish
How To Make It…
Combine water, wine and garlic in a large pot over medium heat. When it reaches a simmer, add mussels and cover; cook 2 to 5 minutes, until mussels open. Remove mussels with a slotted spoon, discarding any that remain closed, and refrigerate.
Strain mussel broth and mix in saffron. Set aside.
Place paella pan over medium-high heat and add about 3 tablespoons of olive oil. When the oil is hot, add the shrimp and cook 2 to 4 minutes, flipping halfway through. Remove shrimp from the pan and set aside.
Add about 1/4 cup of olive oil to the pan; when hot, add onions and red bell peppers. Cook until softened, stirring often, about 15 minutes, adding more oil as necessary. Mix in the minced garlic and cook for an additional 5 minutes.
Next, add the tomatoes, tomato paste, paprika, cumin, bay leaves and salt to the pan. Cook until the tomatoes have released all water, about 15 to 20 minutes, stirring often and reducing heat as needed.
Once the tomatoes have cooked down, pour in rice and toast while mixing, about 5 minutes. Pour in about 2 cups of broth, bring the heat up to medium-high and cook the paella, stirring frequently. When the liquid is mostly absorbed, repeat adding 2 cups of broth at a time until the rice is mostly cooked.
When the rice is almost done, pour in an additional 1 cup of broth and smooth out the top. Adjust the salt to taste. Keep cooking until the broth is mostly absorbed—this forms the bottom crust—and add the mussels and shrimp to the top of the paella. Let stand 5 to 10 minutes, then sprinkle with parsley and serve.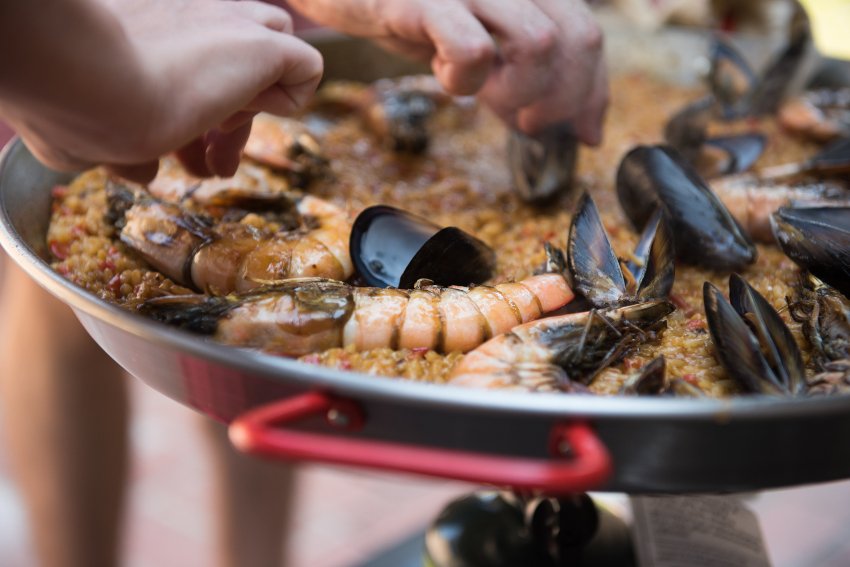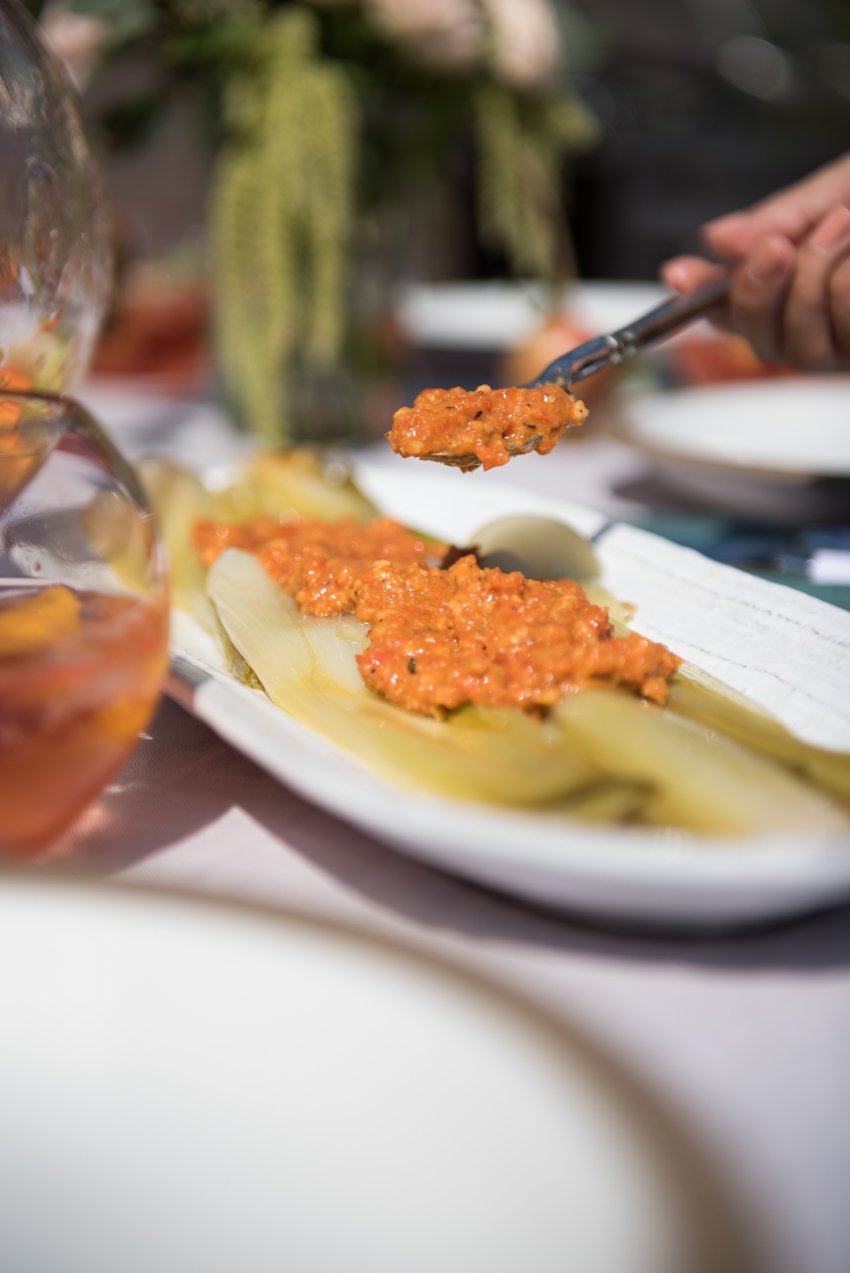 BUTTERY LEEKS WITH ROMESCO
What You'll Need
2 medium roasted red bell peppers, skins discarded
1 large roasted tomato, skin discarded
5 garlic cloves, peeled and smashed
1/4 cup almonds
1/4 cup hazelnuts
1/4 cup olive oil
2 tablespoons sherry vinegar
2 teaspoons smoked sweet paprika
1 1/2 teaspoon salt
2 tablespoons unsalted butter
4 to 5 leeks, trimmed and cut lengthwise
How To Make It…
To make the romesco sauce, combine red bell peppers, tomato, garlic, almonds, hazelnuts, olive oil, sherry vinegar, paprika and salt in a food processor and blend until smooth.
In a sauté pan over medium heat, add butter. When melted, add the leeks, cut side down, and cook 2 to 3 minutes, until golden brown. Flip and cook on opposite side for an additional 2 to 3 minutes. Transfer to oven and braise for about 15 minutes. Serve room temperature with a few tablespoons of the romesco spooned on top.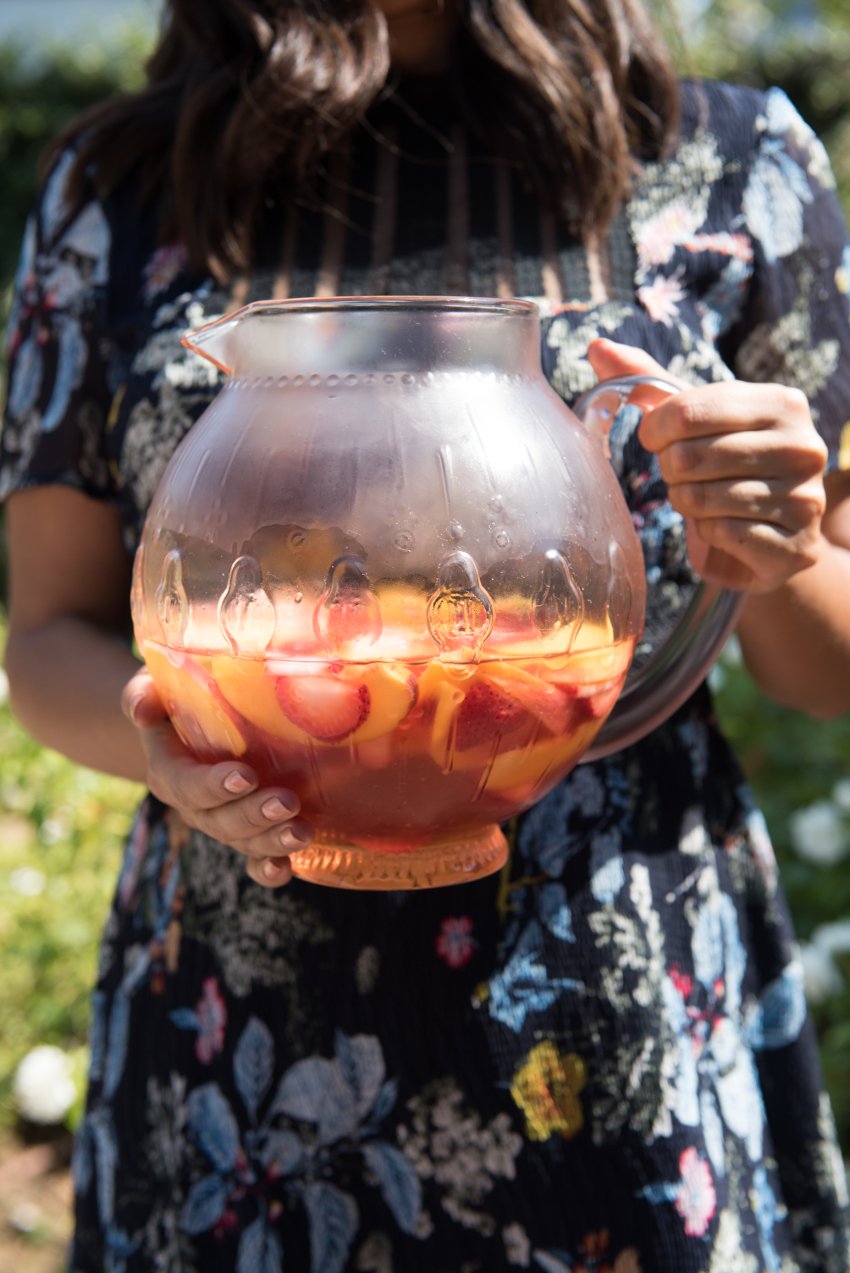 PET-NAT ROSÉ SANGRIA
What You'll Need
1 bottle rosé wine (not sparkling)
1/3 cup Grand Marnier
2 yellow peaches, sliced
1/2 pint of strawberries, sliced
1 lime, thinly sliced
1 bottle pet-nat rosé, chilled
How To Make It…
In a large pitcher, combine the wine, Grand Marnier, peaches, strawberries and lime; refrigerate for at least 2 hours. To serve, pour the sangria base into a glass and top with the sparkling pet-nat.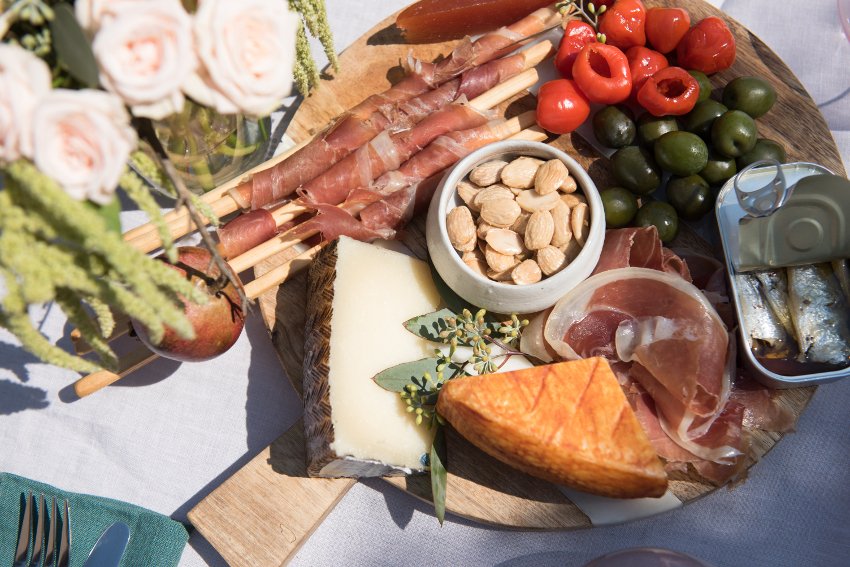 Having company? From platters to pitchers, we have your table covered.