How it's Done: Curate a Gallery Wall
September 14, 2017
Whether you've just moved into a fresh new space or are considering a room refresh, few things seem as daunting to design as a big, empty wall. It can be challenging to curate a collection of artwork that feels right for your space whilst being an honest representation of your style. But fear not – Anthropologie's home stylist, Anne White, knows a thing or two about creating cohesive décor.
Here, she shares her tips, honed from many years of experience, on how to transform your blank wall into an enviably curated and personal gallery.
Keep It Consistent
A unified aesthetic is key when choosing orientation, theme, and color
"Consider the size and shape of your wall. Have a tall and narrow area blank wall? Mirror the space through artwork that is framed in a similar manner, in this case a portrait format. Ensure there is cohesion through the color palette, border, and genre of the artwork. Here, the varied abstract paintings complement each other beautifully, ultimately creating a harmonious collection."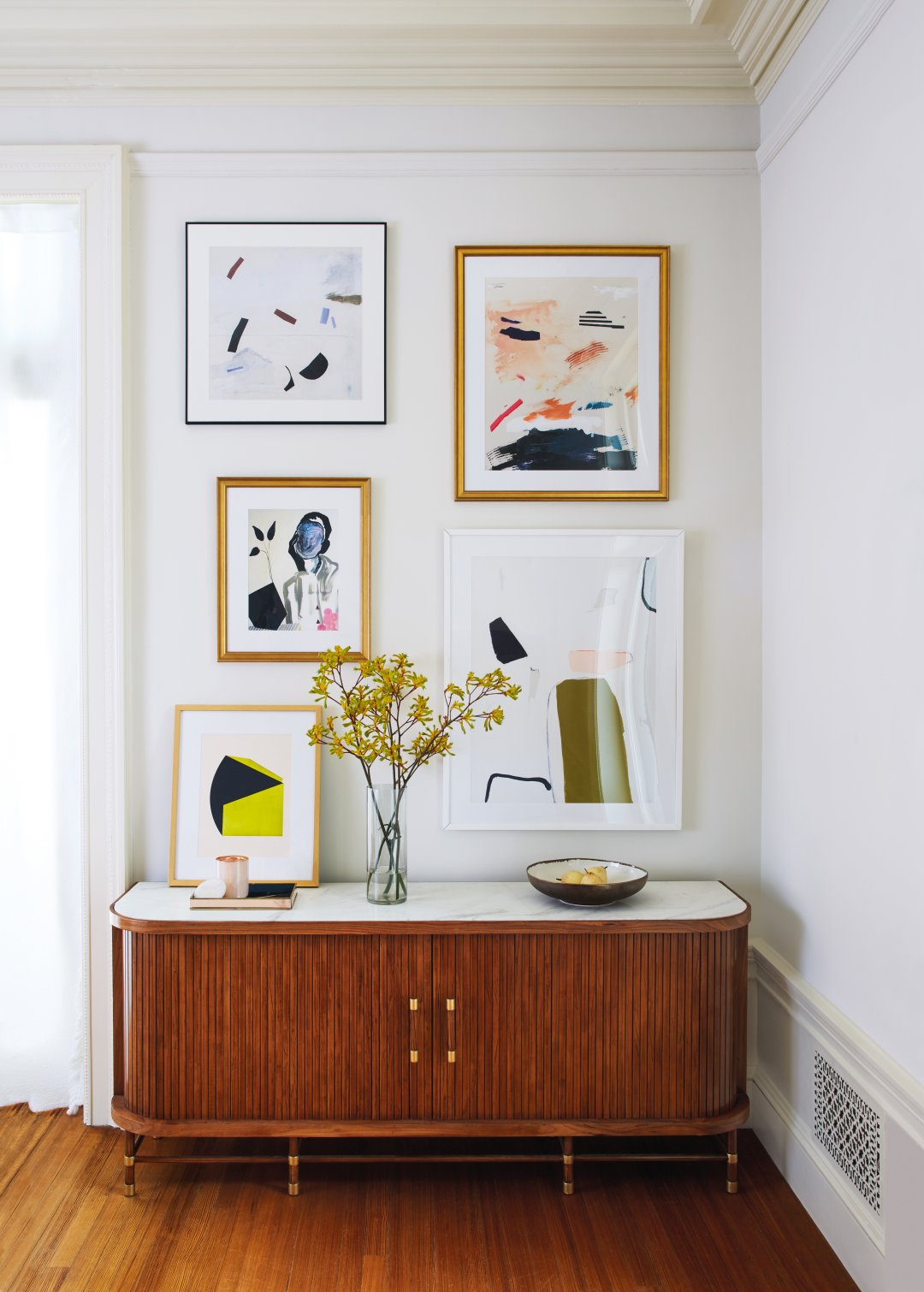 Tell A Story
Place your favorite gem in the spotlight and build upon its charm
If you're a traveler and collector, opt for a more eclectic curation to feature your assorted treasures. Start by selecting a larger focal piece to hang first (a bit off-center like the unframed painting here). This will help subtly narrate and anchor the story. Next, layer in additional works in a variety of sizes to evoke a "collected over time" appeal. Create a unified spirit with occasional pops of color that relate back to the narrator.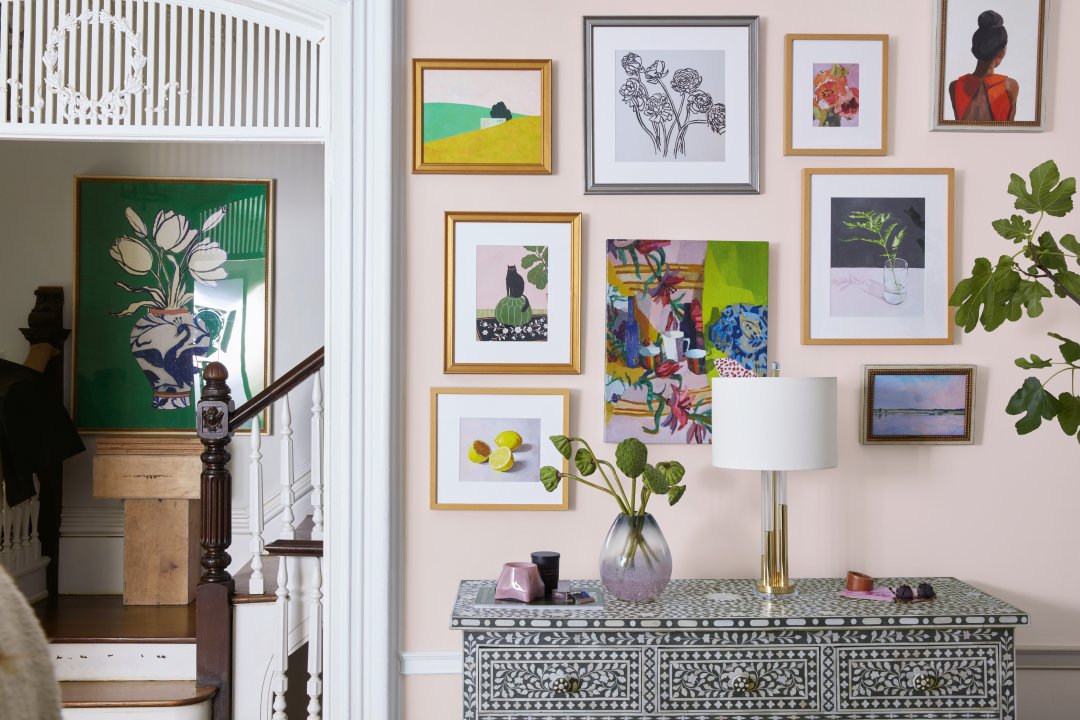 Add Graphic + Gold
Frames shine when geo-themed artwork contains just a few hues
If you are seeking maximum impact with minimal color, go for graphic artwork in a monochromatic palette. Consider frames as a key part of the overall look, and think of how you want them to impact the mood. In this case, gold frames soften the graphic edge and elevate this collection to be especially elegant and sophisticated.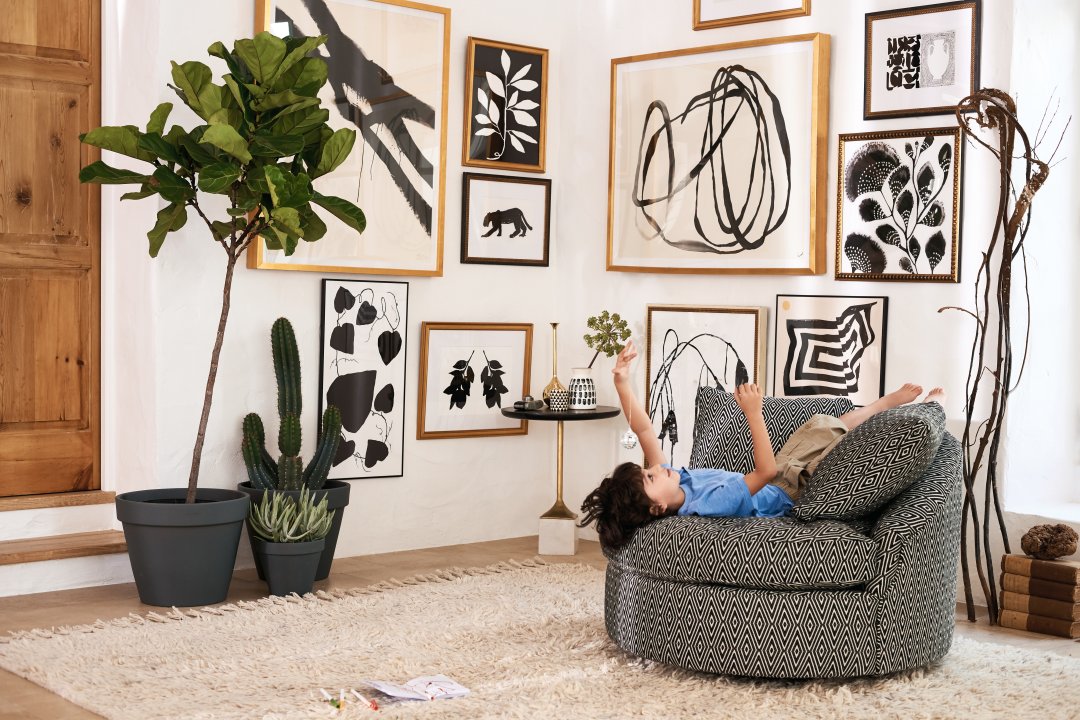 Challenge Conventions
Frame-free textiles and wall-strung sculptures create freshness and depth
A gallery wall is not limited to two-dimensional, traditionally framed artwork. Think of your home as a true gallery and showcase any tactile artwork or textiles that you love collecting (bonus: no framing necessary!). Consider common motifs in a variety of scales, and stick with a thoughtfully curated color palette to allow the texture to sing.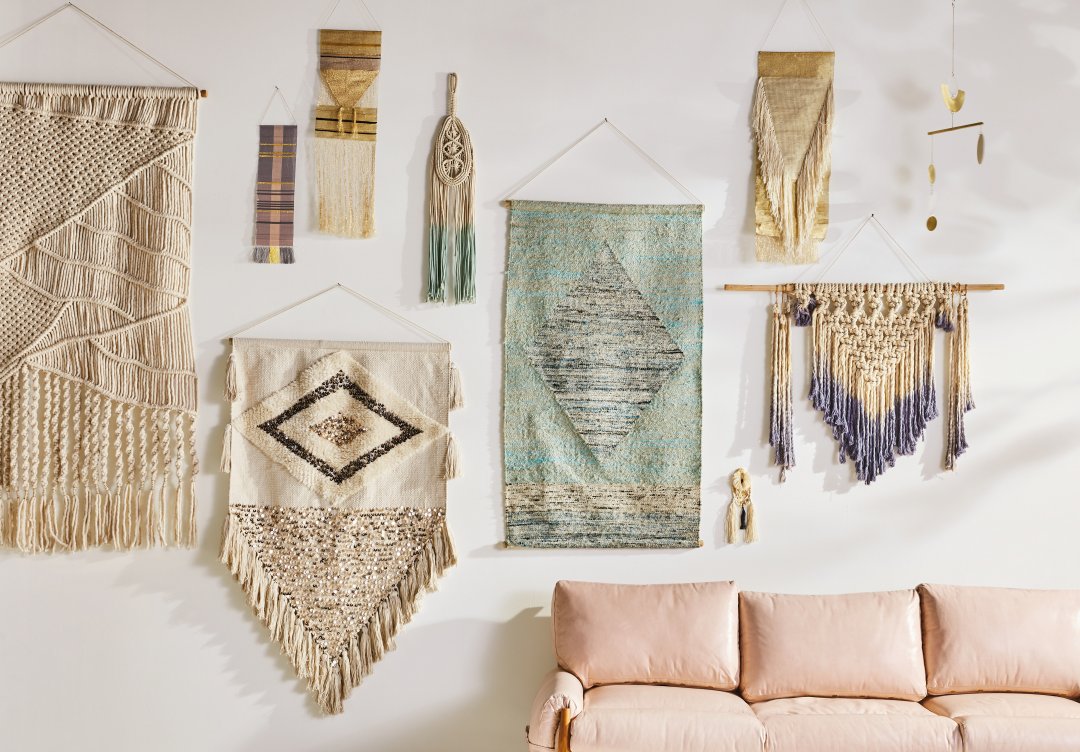 Showcase A Shade
A single hue in varying tones can tie it all together
Your favorite color can be a great theme to build a story around and will effectively serve as a common thread throughout a gallery wall. Stick with frames in complementary tones (in this case, the warm woods and metal finishes nicely accent the cool blues) to further support a harmonious look.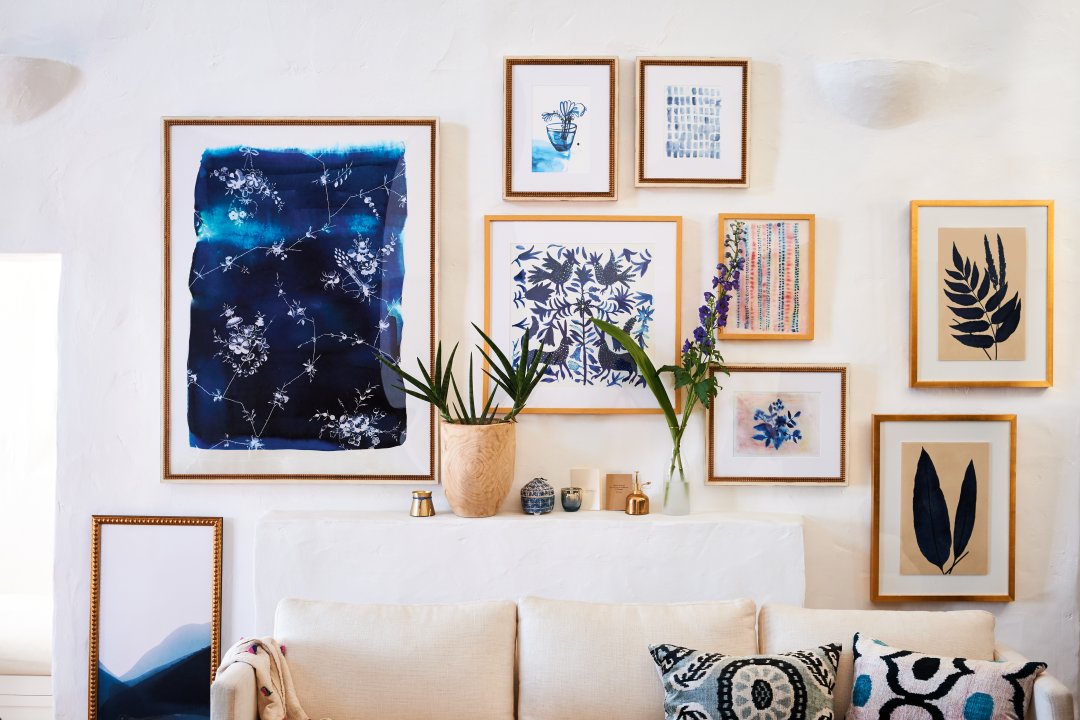 Plan It Out
Use a blueprint crafted from tape and paper for effortless arranging
Once you have decided on the visual direction for your gallery wall, consider the arrangement of your artwork. Play with different layouts on the floor and find the one you like best. Cut scrap paper to the size of each piece of artwork, then use painter's tape to mockup the arrangement on the wall. By doing this, you will gain a good sense of how the artwork fills the space and can make any necessary adjustments. You will also avoid unnecessary holes in the wall as you work through the best layout.
Shop wall décor here.
Learn more Anthropologie Home Styling Services here.